One particularly fruitful collaboration of recent cinema has been Brazilian director Fernando Meirelles and Uruguay born Cinematographer Cesar Charlone. Fernando Meirelles and Cesar Charlone have collaborated since 2002. They made together City of God (2002), The Constant Gardener (2005), Blindness (2008), and recently The Two Popes (2019) – a Netflix production. All movies have been highly acclaimed for that. For The Two Popes , Angenieux Optimo zoom lenses were on set most of the time. Cesar Charlone graciously accepted to tell us more about his experience.
About Cesar Charlone
Cesar Charlone left Uruguay for Brazil at the age of 20 where he now lives. He first studied veterinary medicine In Uruguay and joined the Escola Superior de Cinema Sao Luis in Sao Paulo in the early seventies. He started as camera assistant of cinematographers Dib Lufti and Mario Carneiro. He spent five years in Cuba between 1986 and 1990 where he contributed to the foundation of the Escuela Internacional de Cine de San Antonio de Los Banos.
César Charlone began his long collaborative career with Brazilian director Fernando Meirelles on 2002 with the City of God . The movie brought Cesar Charlone an Academy Award nomination for Best Cinematograhy in 2003. On 2007, he directed his first feature film, The Pope's Toilet, which was selected by Uruguay as its official submission for the 80th Academy Award for Best Foreign Language Film. On 2006, The Constant Gardener awarded him a nomination for BSC best cinematography award . The same year, he was invited to join the Academy of Motion Picture Arts and Sciences, and received the following year a Sliver frog at Camerimage for Blindness. The cinema worldwide community acclaimed The Two Popes which awarded him a second silver frog on 2019 at Camerimage .
Adapted from Anthony McCarten's 2017 play The Pope, The Two Popes illustrates multiple imagined conversations behind Vatican walls between the conservative Pope Benedict XVI (Anthony Hopkins) and his eventual successor the liberal future Pope Francis (Jonathan Pryce) to find common ground to forge a new path for the Catholic Church.Netflix recreated Michelangelo's Sistine Chapel masterpiece in under 10 weeks after the Vatican denied them access to film the movie.
Charlone developed two color palettes for the film to distinguish between present day sequences and flashbacks to Bergoglio and Pope Francis's earlier life. The modern day sequences were inspired by Michelangelo's famed frescos in the Sistine Chapel. Flashback sequences featured an entirely different visual appeal, trending toward darker, near black and white looks. Cesar Charlone employed two cameras , two Red Weapon Helium 8K cameras, during the conversational sequences.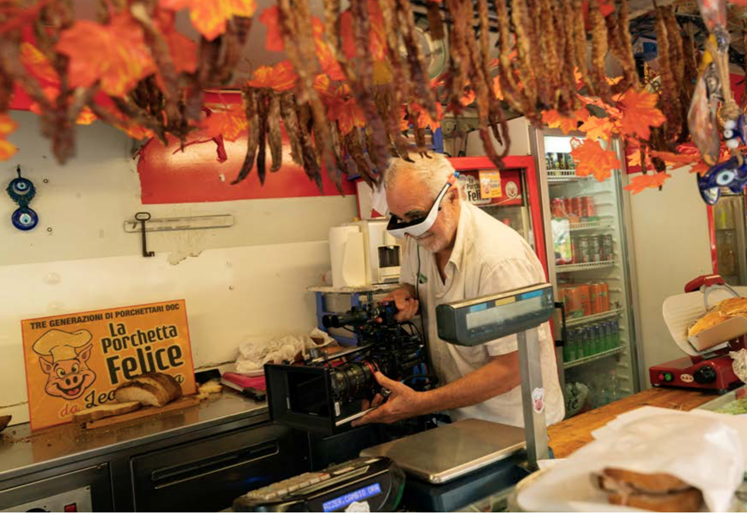 Why did Cesar Charlone select Angenieux zoom lenses ?
"We have to see these guys hundred percent. We have to be right in front of them with two cameras so that we don't miss any reactions" Charlone explained. "It's about them. It's about their faces. It's about the little gestures they do while listening. We constructed all of the cinematography about this feeling of respecting them and letting them do their thing."
"I chose to work with the zoom lenses. These are lenses I'm familiar with. I've been using them since the beginning of my career. I've been using Angenieux zooms since the 70s, when I started shooting commercials and documentaries. I continued to use them for fiction films like The Constant Gardener or City of God, for which I was nominated for an Oscar. The zoom brings flexibility to the shooting. It allows you to quickly reframe and follow the actors with ease, just like in a documentary. In The Two Popes, the Optimo 15-40 was on camera from the morning for the first shots. I used it constantly throughout the day. I also used the Optimo 28-76 and the Optimo 45-120 for some shots that required longer focal lengths. The Optimo 24-290 is a fantastic lens for its focal ratio. It allows you to do wide or telephoto shots from the same point of view. On the other hand, because it's a large lens, it has to be mounted on a tripod, so you can't use it hand held.
The Red Weapon Helium camera allows a resolution of 4k in S16 format, a format compatible with Netflix rules. In Italy, I chose to work in 4k with vintage Canon 11-165 zooms to film the exchanges between the two popes in tight shots. This is the advantage of having a light telephoto zoom that can be easily used with the camera hand held. The Optimos were mainly used for the master shots where the eye is looking for more details. Some scenes like the Pope's election were shot mainly with the 24-290.
For the Argentine part, we wanted to film both historical scenes and scenes of Cardinal Bergoglio's daily life in a documentary style. So we worked also in 4k and 8k formats of the Red Helium. We used the Optimo zooms and the locally available S16mm lenses, including the 11-110 Zeiss, a Cooke zoom, the 17-35 Century, the 11.5-138 HR Angenieux but also the Optimo 15-40. In this part we spent a lot of time in post-production to adapt the images we shot with the archive images we wanted to incorporate into the film."
Translated from Spanish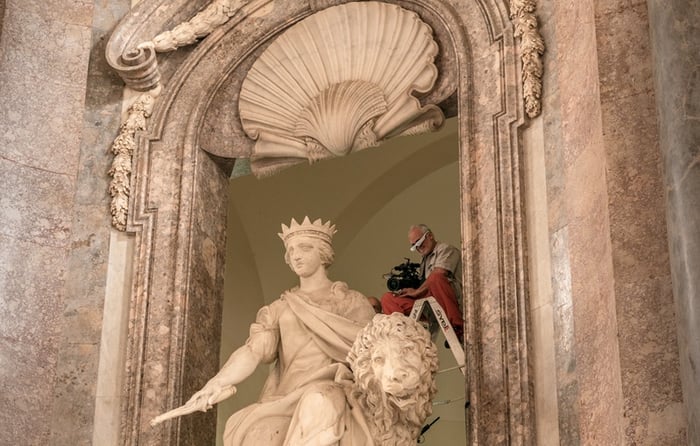 _____
Netflix gave the film a theatrical limited release in the United States beginning November 27, 2019, and in the United Kingdom beginning November 29, 2019. It then started streaming it on its service on December 20, 2019. To pretend to Academy Awards, the rule is that a movie must be presented at least during 7 days, and 3 times a day, in a public theater of Los Angeles. The Two Popes came out on Netflix less than a month before the TV mini-series The New Pope (2020) in which Jude Law and John Malkovich also play two Pontiffs. The New Pope is the follow-up of Paolo Sorrentino's The Young Pope (2016)
Enjoy The Two Popes movie trailer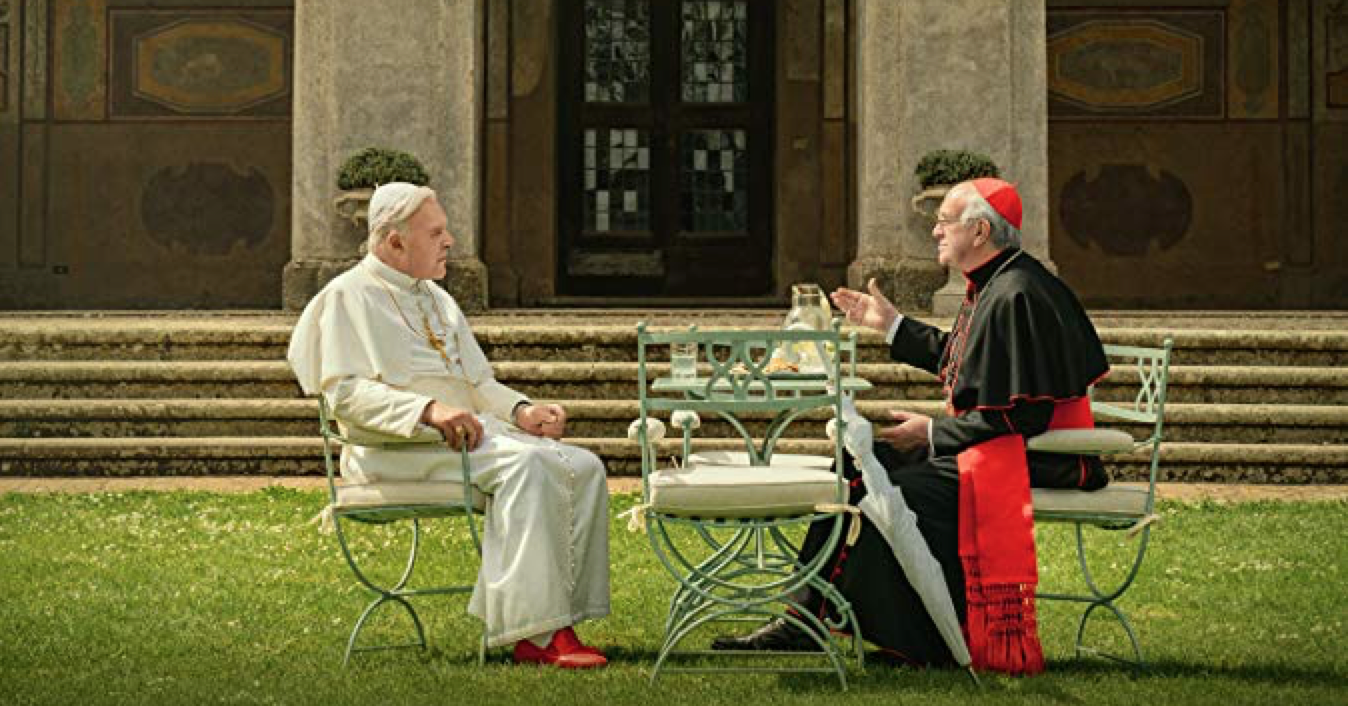 Sources
http://www.cinematographers.nl/PaginasDoPh/charlone.htm
https://www.awardsdaily.com/2019/12/20/cinematographer-cesar-charlone-on-keeping-the-two-popes-visually-compelling/
https://www.imdb.com/name/nm0576987/bio?ref_=nm_ov_bio_sm
https://en.wikipedia.org/wiki/C%C3%A9sar_Charlone_(cinematographer)
https://www.afcinema.com/Piano-lessons-for-penalty-shots.html